---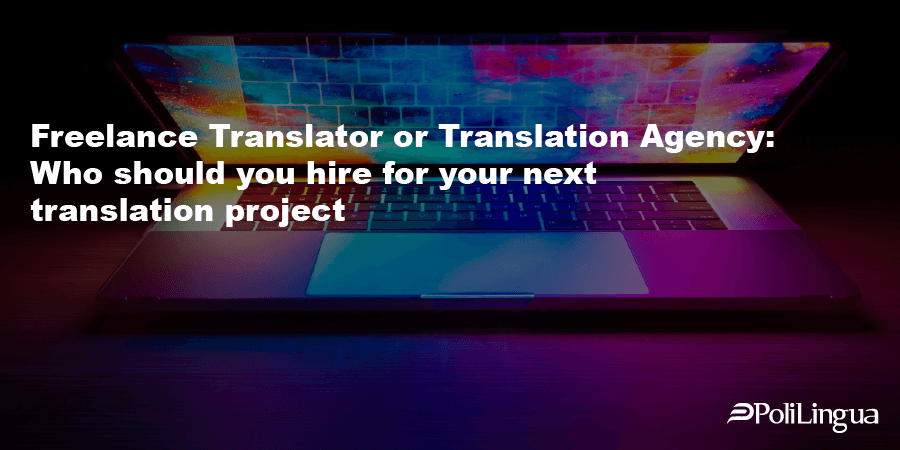 This moment will come. In a month or a week or a day, your company will reach the point when everyone realizes - Henry doesn't understand what we are talking about. We need to translate everything. Or maybe it will be the new boss who will get interested in the diversity of languages. It doesn't really matter who will come up with the idea, but it does matter that you need a translation. What are you going to do? Where are you going to find a translator? And what potential challenges will this quest create? Let's start with the options. Depending on what your goal is, you are free to choose. Read on.
You only have 2.5 options
With all the variety of choices, there are only 2 main types of translators who are up to the task. Well, there are 3 types actually, but we will not look into the in-house translator option since you wouldn't be asking where to find a linguist if you had one in your company. So yes, you have two major routes to move on with your search: freelance translators and translation agencies.
And there are many thousands of both of them so you will find them by just typing 'I need a translation' in the Google search box. And it's the good news. The bad news is that there are thousands of translators and translation agencies from any country, city and location imaginable and you need a perfect fit for your perfect case. And there is a limited amount of time. And a boss who demands results RIGHT NOW. And that person who always wants to move ahead with things. And Henry - yes, let's not forget about Henry.
So what's the plan - go through and read every single page of every single language service site? join a related community? apply, sign up, like and subscribe? Maybe, but first, there's something you should consider.
Finding the right one
As the famous saying goes, 'to find someone you must know who you are looking for'. And you've never heard of this saying because it was translated from another language and you still need a translator. Focus!
There is no one-fit-for-all approach to this issue. A lot depends on your project's ins and outs - its size, the deadlines, the target language (the language you want your text to be translated into - Chinese, Turkish, Spanish), the source language (the one to translate it from - French, English, German), the industry you work in, etc. All these things could be the cue for you to hire a freelancer or a translation agency. Knowing your details is the key to find the perfect match in this game.

Freelance translation
Freelancers are expert linguists who work (often full time) online, from various parts of the world, and in this article, we will talk about them only (the idea of a school person genius who thinks they can earn extra cash because they speak two languages since they were 3 is disregarded for now. Sorry, buddy, no free money, professionals only). If you like a personal approach, your deadline is not that deadly, and you love talking to people, a native freelancer is what you've been searching for. Most freelancers are very flexible when it comes to their clients' requirements and are always ready to meet them in the best way possible.
Working with freelancers could be in your interests too since if you hit it off you could get yourself an in-house translator who would work for your business. Which is a good thing. Many freelancers are passionate about what they do and therefore they are really good in a specific niche. The thing is, you may not have enough patience to comb through the global translation community to look for the one and only professional perfect for your projects.
Translation agencies
A translation agency is a complex organism with many translators at work and many jobs being done all at once. The key advantage here is the availability of language combinations. Translation agencies usually have a pool of professionals on who they can rely if needed. It means they always have a few translators ready to take up work even if you need a rare language combination or a niche industry gig or both (think about a translation on gain-of-function research into Thai or even Japanese). Freelancers can do it too but good luck finding them on the vastness of the Internet.
Translation agencies are okay with tougher deadlines and large gigs because they have the resources to pull it through. They can assign a dedicated team to work on your task, and that's something freelancers can't usually do. If the speed is your thing, go with an agency to be on the safe side to make sure the deadlines are met. And since translation agencies can do all the mentioned above, they can assign proofreaders and other professionals so you don't have to do it yourself. It guarantees you get the output in a timely manner, proofread and maybe even dubbed or subtitled (if you had something of that in mind).
Who wants to get paid?
The price for the job done is key sometimes. Fees per hour are considered to be lower when you work with freelancers, but it's not always the case. Freelancers usually want less work for more money so if you are lucky you and there's a promise of more projects in the future they may adapt to your offer. On the other hand, agencies can do several jobs simultaneously, translating thousands of words in a matter of days if not hours. They may charge a bit more but in return, you receive the quality of the highest level. Nothing is free, especially when we are talking about experience in translations.
Okay, but who should I hire?
To sum it up, a good translation agency is not only about translations. It's about support, a large number of language combinations, teams of dedicated linguists and extra services such as localization, dubbing, subtitling, editing, DPT, transcreation, voiceover, SEO, content writing and whatnot. So if your project is not super bulky, your deadlines are not tight, your target language is not rare, and the price you are willing to pay is not high, you most probably should hire a freelancer.
But some projects are just too big for individual freelancers (or even a network of freelancers) to handle, which means they would take much time to complete them, much more than translation agencies (days? weeks? who knows?). The rarity of a target language may also be an issue if you want to hire a freelancer. You might get lucky to find one who works with rare languages but the process is time-consuming and you could end up hiring someone to find a person to translate your thing. Seems like too much trouble. A translation agency can do it for you.
Having said all that, it should be mentioned that you are the only one who knows all the special aspects of your translation. Define your needs, learn which skills you want your hire to have, set the deadline and the rest will follow. Your life would be much easier if you know what you need to get things done. Now when you have the information, it's up to you to decide what works better for you.

---