How Localization and Subtitling along with Ukrainian Translation could help widespread this TV Show or even make it mainstream?
You can doubt the success of the show, but it can reach far bigger success with proper localization and subtitling from Russian to other languages as the original series is in Russian, not in the Ukrainian Language. More about this is further down in the article.
With content producers constantly looking for new ways to get shows out there and increase their audience, localization and subtitling are often overlooked.
In today's world, with more and more people watching shows on their mobile devices or computers, subtitles are no longer just a way to make the show more accessible to those who might be deaf or hard of hearing. They can also be a way to spread your show around the world.
If you can subtitle your show in multiple languages, you have the potential for much wider viewerships all over the world.
If a viewer comes across your video online but does not speak English, they might consider it unusable. But if you offer the choice of subtitles in their native language, then they will be able to watch your video and understand what is going on.
It's important that these subtitles are accurate though, as an incorrect translation could confuse or upset viewers who are expecting something different from what appears on the screen.
Due to the latest events and the acts of heroism demonstrated by the Ukrainian army and president Volodimir Zelenskyy, the show has gained a lot of popularity recently.
Channels in Germany, France, the United Kingdom, and Belgium have picked up broadcast rights for the first season of Ukrainian President Volodymyr Zelensky's sitcom "Servant of the People."
The series, which was produced by Kvartal 95, Zelensky's production company, has been acquired by ZDFneo (Germany), France 2 (France), and RTBF (French-speaking Belgium). The three channels will air their first episodes at the end of October.
The UK's tv Channels have also started to buy the rights for broadcasting: 4, Sky, and STV have picked up the Ukrainian comedy series Servant of the People.
Servant of the people, the story of an ordinary history teacher who becomes Ukraine's president, is one of many works of fiction that has had an eerie resemblance to real life in recent years.
The politician Volodymyr Zelensky plays Vasyl Holoborodko, a frustrated school teacher who posts a video on Facebook complaining about corruption and ends up as president.
But to begin, lets first see who is Volodimir Zelenskyy
Volodymyr Zelensky is a Ukrainian comic actor and screenwriter who has been elected president of Ukraine.
Zelensky is the founder and majority owner of Kvartal 95, a premier Ukrainian production company that produces films and television series. The company has produced such popular TV shows as Servant of the People, which stars Zelensky; Evening Urgant, a late-night talk show; Comedy Club Ukraine, a stand-up comedy series; and The Last Hero, an international reality television franchise.
Born in Kryvyi Rih, Dnipropetrovsk Oblast to a Jewish father and Christian mother, Zelensky graduated from the Faculty of Law at Kyiv National Economic University in 2002 with a degree in International Law. During his time at university, he began to pursue his interest in acting by joining an amateur theater company at Kvartal 95. Before long he had gained international recognition for his comedic roles on television and film. In 2007 he won the World Championship of Performing Arts in the categories of Comedy and Variety along with receiving the Best
Zelensky, who plays a fictional president on a popular Ukrainian TV sitcom, won 73 percent of the vote in the second round of the election, according to the country's Central Election Commission. He defeated incumbent President Petro Poroshenko.
In his acceptance speech after the election, Zelensky said he would be "the president of all Ukrainians" and called on Poroshenko to help him build a new government.
Poroshenko conceded defeat Sunday evening and said he will stay in politics as an opposition leader.
Zelensky, 41, was largely unknown before he ran for office. He has never held public office and his lack of political experience has made him mysterious to some Ukrainians.
Early Career
While still a student, Zelenskyy worked as a trainee in the Kvartal 95 studio. He then worked as a production manager at Studio Kvartal 95 and, since 2002, has been the program director of Studio Kvartal 95. During his early career, he wrote screenplays, directed and starred in various TV shows for the studio including Evening Urgant. Zelensky created the character of Dima Nikolaevich Gorbachev (a parody of Soviet General Secretary Mikhail Gorbachev) for Evening Urgant. He also created and played the role of Vasily Nikitich Bolotnikov (a parody of Russian President Vladimir Putin) in 2003.
In 2011, he began writing scenarios for films produced by Kvartal 95. In 2012, he started hosting the Ukrainian version of Who Wants to Be a Millionaire? on 1+1. In 2014, he co-starred in the film The Servant and hosted a comedy show called Evening Kvartal on 1+1.
Zelensky's career began with booking roles in several TV series such as "Laughter through tears", "The guy from our street" and "The Black Raven". In 2008, he made his film debut in the comedy series "Servant of the People" which aired on a 1 + 1 channel and caused a wide public resonance both in Ukraine and abroad. The series has been translated into several languages (English, French, German) and is available on Netflix. Volodymyr Zelensky played the role of Vasily Goloborodko - an ordinary history teacher who accidentally becomes president of Ukraine due to a video that goes viral on YouTube after he criticizes the government for corruption during one of his lessons.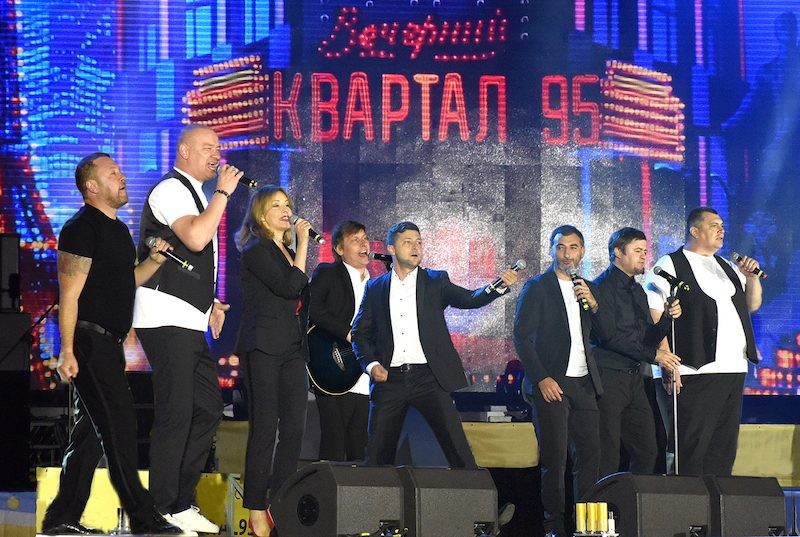 How did Zelensky come from comedian to president?
His election as president of Ukraine, a country of 42 million people and one of the most corrupt in Europe, was the culmination of years of work in the media and political spheres, building up a reputation as a man who could make things happen against impossible odds.
Zelensky's campaign slogan was "Time for a change!" And while that was largely aimed at his opponent, Petro Poroshenko, it also applies to Zelensky himself.
Zelensky is not just a comedian but an actor and producer who co-created the popular television series "Servant of the People," which tells the story of a teacher who becomes president after an expletive-filled rant on social media go viral.
Zelensky became famous by playing a character on television who had no experience in politics. But his own success has come from his ability to capitalize on the frustrations with politicians that have made Ukrainian politics ripe for disruption.
So what's the deal with "Servant of the People"?
The concept of the series is simple: the hero of the film, Vasily Petrovich Goloborodko (Volodymyr Zelensky), was a high school teacher. And suddenly he gets very unexpected results in the presidential elections and wins. The reason for this success is that he is not like other politicians.
It has 3 seasons. The seasons consist of 22 episodes of approximately 28 min, with the exception of the third season which has 3 episodes.
The series was produced by Kvartal 95 and commissioned by and aired on the 1+1 network from October 2015 until April 2016 (before the Ukrainian parliamentary election). A second season aired from July to September 2019 during the Ukrainian presidential election.
Why is the Ukrainian series "servant of the People?" in Russian?
The series itself is Ukrainian, but it's about a Russian-speaking politician (kinder for President) who has risen to power in Ukraine.
It's a little more complicated than that, but not by much. The majority of Ukrainians are Russian-speaking, and the history of the two countries is very intertwined. There's still a lot of animosity between the two countries, but not always between the people themselves. It's just one of those things that happen when people are really close together and have been for hundreds of years.
In this particular case, it was an international co-production between Ukraine and Russia (among others), so it would make sense to include some Russian language or characters.