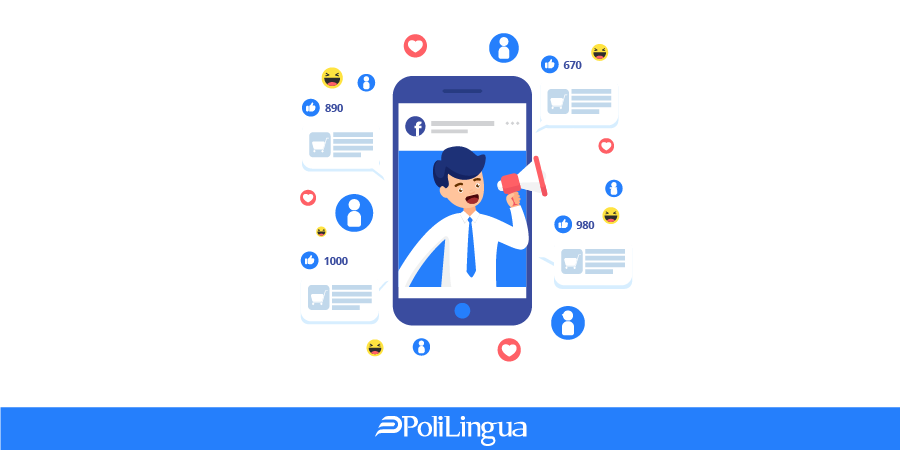 When people are navigating on Social Media, what are they looking for? Do you know how to expose them to the experience they enjoy, generating high user engagement? Picking up efficient methods for your multilingual social marketing goals can yield incredible results, and there's an explicit reason for it.

A survey run in 2015 has demonstrated that out of 3 billion people, 2 billion were participating on Social Media platforms. This is quite an impressive number. Needless to mention, people access the information from all around the globe. Taking into account their spoken language is crucial when you want to enhance the user's experience. The more you want to reach people, the more you need to convert information which will impact their online activity in a positive manner.

To begin with, cropping up valuable messages which will produce the desired results implies translating your posts and articles in several languages. However, English is being considered widely spoken and internationally accepted, Chinese, Spanish and Arabic join along the way. Besides, there has been noticed a wide use of India's language in the online world. About 73% of India's net users asserted their predilection for the information delivered in other languages, instead of English.

Thus, an up-to-date approach is paramount.

In order to ensure more clarity, top tips have been selected to depict the most successful methodologies for your Social Media enhanced impact.

1. Who, what, where, and how. Know your target and master the suitable approach.
It is important to think about your audience as if you were in somebody else's shoes. Analyze thoroughly which feature describes more exactly your target and deliver the experience which will be highly appreciated. This kind of attitude will boost the engagement by delivering the right information, and exploiting adequate methods for those who are fitted for your specific goals. This way, outstanding results will be achieved and the audience will thank you a lot. The outcome will undoubtedly be reflected in fruitful and long-lasting relationships with your online audience.

2. Tools alone cannot replace the human's capabilities.
As long as tools cannot deliver the full-immersion offered by the attentive human eye, the upshot will be obvious. Enjoy the wide network of comfortable, cutting-edge tools, but don't forget to focus on the subtle essence which a real person can grasp irreplaceably. For example, a real-life scenario demonstrated that Amazon couldn't provide the best results in its attempt to translate the site in Hindi. Marketing messages create brand awareness. So, the advice is to make sure your image won't suffer as a result of poor conversion of the intended meaning.

3. If you are not sure you understand it, don't translate it.
Gambling on quality can cost you a fortune, considering your reputation as well. Saving money or handling tasks in a hurry can reduce your expenses, but it can also alter important opinions and ruin the way you are perceived by the online users. Invest in top translators and you won't have to deal with unfortunate surprises.

4. One neologism at a time. Introduce neologisms in moderation.
Including fresh words can be energizing and appealing, but failing on picking the right ones can completely diminish the level of success you've been counting on.
A sensitive situation took place in 1997 when Arabs complained that Nike's symbol designed for the Air trainers was perceived as being very similar to the script of Allah.

5. Understand the culture and communicate in its spirit.
In order to engage with communities, you have to possess an in-depth perception regarding its subtle cultural nuances. To do so, a meticulous analysis is advisable. If you understand the culture, you know how to present the information in order to receive the result you aspire for.
For example, the same title can sound significantly differently in a diverse language. "24 things men will never understand" has been reduced for Brazil to "20 things men will never understand." Quite impactful, isn't it?

6. Make the information pleasant to the eye.
Don't hesitate on adding relevant visual content which will absolutely augment your success. People love to get quick tips and a good image will definitely catch the attention of the consumer. Whether it's a video, photography, or even an emoji, your post or article will provoke interest and a spur of emotions at the same time.

7. Create different accounts for different languages.
This method delivers a smoother experience for your users. Besides making your information navigable, it will reduce the time spent on accessing the page with the desired language.
For example, Pope Francis has more than one account, each of them being specifically adapted to different languages.
The NBA has also adopted this practice, displaying one page in English, and the other in Spanish.

8. Create different posts for different languages.
Reading the same message twice can be quite displeasing. Avoid causing boredom amongst your consumers, and opt for communicating respect instead, by producing bilingual posts.
For instance, the Canadian Prime Minister Justin Trudeau is successfully applying this kind of approach by generating unique posts for each language. As a result, the messages get across all the Canadian's, in spite of the spoken language.

9. Insert translations in the same post
This technique is more applicable for image-oriented posts, accompanied by more or less concise texts.
Tourisme Montreal is enjoying this tip by posing on Instagram both in French and English. Make sure to get acquainted with the preferred language of your audience and place it on the top.

10. Provide assurances for consumers
When faced with purchasing a product or a service, the consumer is very likely to stay away from ambiguous information, avoiding texts written in a language they don't understand. In this context, translating your website content is crucial. What can be more ensuring than reading return policies, or other useful information in your own language, especially when confronted with it online?

11. Post considering the appropriate time
Besides managing translation matters, make sure the posts are launched online considering the time zone. Though it may seem trivial, the consequences will follow accordingly.

13. Develop loyal followers
You can catch more flies with honey. Plan your content and pay attention to what your audience fancies. Deliver the right captures for their specific needs and you won't regret considering this approach.

The wide pallet of useful techniques you can put into practice to create Social Media presence doesn't stop there. New methods keep on emerging. Meanwhile, we did our best to cover the most efficient tips in one article, and would be glad to learn about your particular experience when dealing with multilingual social marketing. Let us know which method works best for you, or which one from the above-mentioned list you are ready to perform!
---