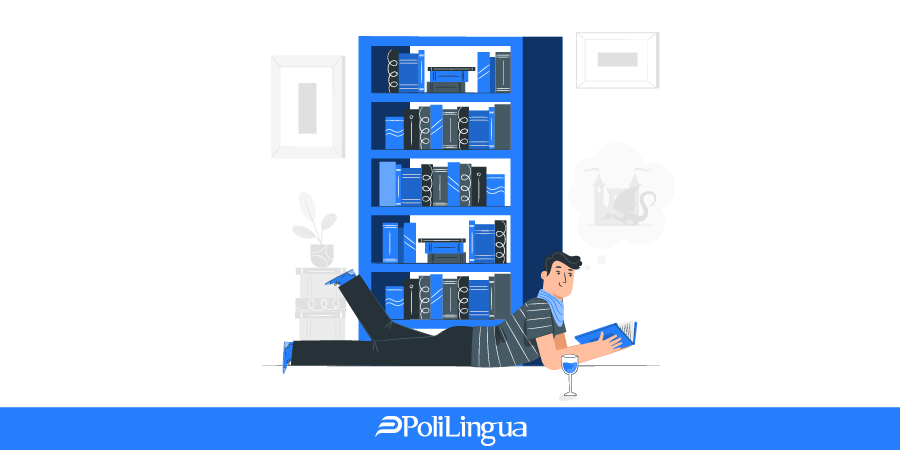 Any good translation is just a version of an original text rendered into a foreign language. It's a no-brainer, but we should start somewhere. So, a translation work, as its Latin roots show, is a transfer of meaning from one language to another. But it must not be an imitation - and it is one of the key rules of the translation game.
The trick is to stick to the original text as much as possible, but without making the translation unnatural and strained. There is always room for a compromise to do that. The translator has to balance between requirements, which are often puzzling and contradicting. Literally, every sentence must meet the requirements to keep this high-wire act going on.
Sounds like a lot of work, right? Sure, and that's why the best works of literary translation are celebrated each year by receiving the Best Translated Book Award.
We will talk about the nominees and the winner of 2020 later, but first, let's dive into the world of translation theory just to get a clearer idea of what this Award is and why we need it.
Why is literary translation important?
The translation occupies an important and special place in world literature. It gives us a chance to access works written in foreign languages. Since language is both a representation of the senses and the intellect of a certain group of humans, reading a translation is nothing more than entering this universe beyond words.
Why translating a book?
Translating a book, or having it translated and then distributing it, is a simple way to increase your recognition and your sales. A book is an asset that has several lives. Its publication is the first step, its translation, usually into English, French or Spanish, is another important step.
If the book has found readers and the reviews are good, then translating the book will be profitable.
If you have a lot of trouble attracting readers to online bookstores, whether your sales come mainly from your book signings or physical shows, then translating the book will first serve to increase your credibility as an author, and to reinforce the seriousness of your approach, but not to sell more.
Translating a book does not always have to be profitable. It can also be an investment in your credibility as an author.

Do I need permission to translate a book?
If you are not the author, you will need to contact the original book author and/or their publisher. Either of them will direct you to the right person to deal with - there are no strict rules on who has what rights, so you will need to do some research on who has the translation rights in your case and whether that person is interested in letting you translate the book 'officially'.
If you make contact, make sure you are clear about the type of publication you are aiming for - publishing freely on the web differs greatly from for-profit print publication; you may get permission for one, but not the other.
The copyright is considered transferable property, so any surviving family member of the original author would most likely own the copyright. In this case, if you can translate from the source, you may obtain permission from the person who owns the original copyright. If the original author has been deceased for over 70 years and you are translating from the original work, you are working with a book that is now in the public domain, so you will not need permission from anyone.
How much does book translation services cost?
Without going too much into detail, there are a few things to consider - the volume of the book, how widely spoken source and target languages are, costs of publishing and editing, if any are planned, and so on.
If you work with a publisher, you can ask them to sell the translation rights abroad, or recover your rights to translate it yourself.
At PoliLingua, we work with 8000 language experts in over 100 languages. We translate, adapt, and edit texts. Contact us now to get a free quote (we reply within 24 hours).
What exactly is the Best Translated Book Award?
To celebrate the best translation works of the year, in 2007 the Best Translated Book Award was established. This year, it was held for the 13th time - what a surprise considering it's the year of the pandemic and what not. On the bright side, it was the year when we had unusually much more time to read, so the BTB Award didn't take too much damage in this regard.
In March, the long list of 2020 Best Translated Book Award was announced. 24 titles were nominated for the Fiction category and 10 in the Poetry. They covered authors and translators from 21 countries with source texts in 19 languages from Europe, Asia, South and Central Americas, Russia, and the Middle East.
Let's take a look at the 2020 BTB Award longlists!
Best Translated Book Award 2020: Fiction Longlist
The Wind that Lays Waste by Selva Almada, translated from the Spanish by Chris Andrews (Argentina, Graywolf)
The Book of Collateral Damage by Sinan Antoon, translated from the Arabic by Jonathan Wright (Iraq, Yale University Press)
Welcome to America by Linda Boström Knausgård, translated from the Swedish by Martin Aitken (Sweden, World Editions)
Animalia by Jean-Baptiste Del Amo, translated from the French by Frank Wynne (France, Grove)
Vernon Subutex 1 by Virginie Despentes, translated from the French by Frank Wynne (France, Farrar, Straus, and Giroux)
A Girl Returned by Donatella Di Pietrantonio, translated from the Italian by Ann Goldstein (Italy, Europa Editions)
EEG by Daša Drndić, translated from the Croatian by Celia Hawkesworth (Croatia, New Directions)
Space Invaders by Nona Fernández, translated from the Spanish by Natasha Wimmer (Chile Graywolf)
Stalingrad by Vasily Grossman, translated from the Russian by Robert Chandler and Elizabeth Chandler (Russia, New York Review Books)
Die, My Love by Ariana Harwicz, translated from the Spanish by Sara Moses and Carolina Orloff (Argentina, Charco Press)
Will and Testament by Vigdis Hjorth, translated from the Norwegian by Charlotte Barslund (Norway, Verso)
Good Will Come From the Sea by Christos Ikonomou, translated from the Greek by Karen Emmerich (Greece, Archipelago Books)
Tentacle by Rita Indiana, translated from the Spanish by Achy Obejas (the Dominican Republic, And Other Stories)
China Dream by Ma Jian, translated from the Chinese by Flora Drew (China, Counterpoint)
Parade by Hiromi Kawakami, translated from the Japanese by Allison Markin Powell (Japan, Soft Skull)
Death Is Hard Work by Khaled Khalifa, translated from the Arabic by Leri Price (Syria, Farrar, Straus and Giroux)
The Boy by Marcus Malte, translated from the French by Emma Ramadan and Tom Roberge (France, Restless Books)
The Cheffe: A Cook's Novel by Marie NDiaye, translated from the French by Jordon Stump (France, Knopf)
The Memory Police by Yoko Ogawa, translated from the Japanese by Stephen Snyder (Japan, Pantheon)
A Dream Come True by Juan Carlos Onetti, translated from the Spanish by Katherine Silver (Uruguay, Archipelago Books)
77 by Guillermo Saccomanno, translated from the Spanish by Andrea G. Labinger (Argentina, Open Letter Books)
Beyond Babylon by Igiaba Scego, translated from the Italian by Aaron Robertson (Italy, Two Lines Press)
Labyrinth by Burhan Sönmez, translated from the Turkish by Umit Hussein (Turkey, Other Press)
Drive Your Plow Over the Bones of the Dead by Olga Tokarczuk, translated from the Polish by Antonia Lloyd-Jones (Poland, Riverhead)
Territory of Light by Yuko Tsushima, translated from the Japanese by Geraldine Harcourt (Japan, Farrar, Straus and Giroux)
Best Translated Book Award 2020: Poetry Longlist
Aviva-No by Shimon Adaf, translated from the Hebrew by Yael Segalovitz (Israel, Alice James Books)
Time by Etel Adnan, translated from the French by Sarah Riggs (Lebanon, Nightboat Books)
Materia Prima by Amanda Berenguer, translated from the Spanish by Gillian Brassil, Anna Deeny Morales, Mónica de la Torre, Urayoán Noel, Jeannine Marie Pitas, Kristin Dykstra, Kent Johnson, and Alex Verdolini (Uruguay, Ugly Duckling Presse)
Next Loves by Stéphane Bouquet, translated from the French by Lindsay Turner (France, Nightboat Books)
Camouflage by Lupe Gómez, translated from the Galician by Erín Moure (Spain, Circumference Books)
Book of Minutes by Gemma Gorga, translated from the Catalan by Sharon Dolin (Spain, Oberlin College Press)
The Catalan Poems by Pere Gimferrer, translated from the Catalan by Adrian Nathan West (Spain, Carcanet)
Tell Me, Kenyalang by Kulleh Grasi, translated from the Malay and Iban by Pauline Fan (Malaysia, Circumference Books)
A Drink of Red Mirror by Kim Hyesoon, translated from the Korean by Jiwon Shin, Lauren Albin, and Sue Hyon Bae (South Korea, Action Books)
The Winter Garden Photograph by Reina María Rodríguez, translated from the Spanish by Kristin Dykstra and Nancy Gates Madsen (Cuba, Ugly Duckling Presse)
And the winners are:
The winner in the Best Translated Fiction category in 2020 is EEG by Daša Drndić, translated from the Croatian by Celia Hawkesworth (Croatia, New Directions)
The Best Translated Poetry Award went to Time by Etel Adnan, translated from the French by Sarah Riggs (Lebanon, Nightboat Books)
---